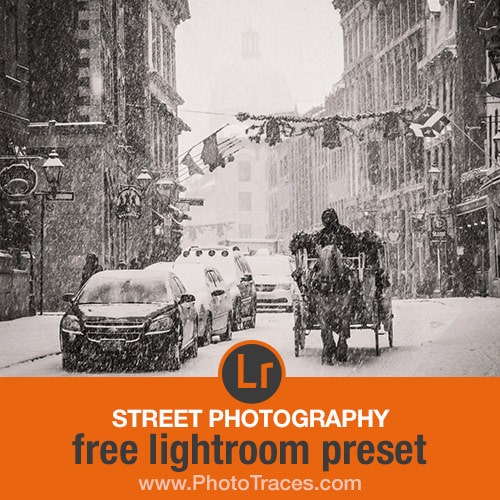 Narrow Streets
Free Street Photography Lightroom Preset

Compatible with Lightroom 5, Lightroom 6, Lightroom Classic and the Creative Cloud (CC), and Lightroom Mobile.
How to Use Free Lightroom Preset
If you need help with the free Lightroom presets installation, please check my dedicated tutorial here: How to Install Lightroom Presets
My free Lightroom presets work with images in different formats (RAW, JPEG, PNG, TIFF…). But I highly recommend using a RAW format, which offers the most flexibility and produces the highest quality.
If you need RAW images to practice Lightroom preset based editing, please visit my free library of RAW images. Fee free to download and use them for practice: Free RAW Photos for Editing
For the demonstration, I used the outdoor portrait image.
Using Free Street Photography Lightroom Preset
I developed the Narrow Streets free Lightroom preset for editing images captured in urban environments. The idea was to create a look of classical street photographs. The high tonal contrast is the main feature of the preset treatment.
When you discard the color information from the image, the main characteristic of the composition becomes tonal contrast, where you want to highlight the tonal difference between dark and bright elements of the photo.
It is not always easy to look at the scene full of colors and accurately assess how it will look in black and white. My advice is to switch the LCD of your camera and EVF (if possible) to black and white mode. This way, you can preview the scene in black and wife through LCD or EVF even before taking the shot. I find this the best way to learn black and white street photography.
On Fujifilm cameras, you can enable black and white preview through film simulations.
For the demonstration, I used the urban photo I took in Montreal while crossing the Jaques Cartier Bridge.
For me, the main attraction of the scene was the fence and the shadows it cast. The idea was to convert it to black and white and boost the contrast to emphasize the shadow stripes.
I started the editing process by applying the Narrow Streets free Lightroom preset. The preset converted the photo to black and white and applied the basic contrast value. But, it was apparent the default level of contrast was not enough, and t had to be increased further.
For such final tweaks, I used the TOOLKIT adjustment presets.
The TOOLKIT is the collection of Adjustment Presets. The presets allow fine-tuning of a photo without altering the style and Lightroom editing tools.
You can download the TOOLKIT Adjustment Presets, which is part of my free Travel Preset Collection, here: Free Travel Preset Collection
Next, I used the TOOLKIT.
I applied the following adjustments:
9. Open Shadows +++
13. Contrast ++
32. Vignetting ++
47. Midtone Contrast +++++
The Editing Formula: Narrow Streets (9, 13, 32, 47)
And here is the final result:
Examples of Free Street Photography Lightroom Preset
Free Lightroom Presets Download
Below please find the complete free lightroom presets download (zip) library.