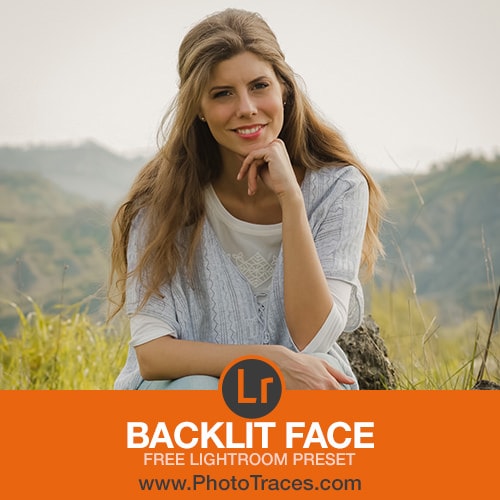 Backlit Face
Free Portrait Lightroom Preset

Compatible with Lightroom 5, Lightroom 6, Lightroom Classic and the Creative Cloud (CC), and Lightroom Mobile.
How to Use Free Lightroom Preset
If you need help with the free Lightroom presets installation, please check my dedicated tutorial here: How to Install Lightroom Presets
My free Lightroom presets work with images in different formats (RAW, JPEG, PNG, TIFF…). But I highly recommend using a RAW format, which offers the most flexibility and produces the highest quality.
If you need RAW images to practice Lightroom preset based editing, please visit my free library of RAW images. Fee free to download and use them for practice: Free RAW Photos for Editing
For the demonstration, I used the outdoor portrait image.
Using the Backlit Face Free Lightroom Preset
I created the Backlit Face preset to be used with outdoor high contrast portrait images.
It is a typical situation when your model is positioned in the shade, and you shoot against a bright sky. Shooting in such conditions results in photos where your model is underexposed with prominent deep shadows around the face. It is contrasting with the much brighter, often overexposed, background (sky).
The Backlit Face preset's goal is to recover deep shadows around the face and bring down the background's brightness. In other words, to balance the exposure.
Look at the photo I used for the demonstration. Everything in the image is well exposed, except for the essential element of the composition, the person sitting in the foreground.
Here is the histogram of the demo photo:
To start, I used the Backlit Face preset.
For the final touches, I used the TOOLKIT adjustments.
The TOOLKIT is the collection of Adjustment Presets. The presets allow fine-tuning of a photo without altering the style and Lightroom editing tools.
You can download the TOOLKIT Adjustment Presets, which is part of my free Travel Preset Collection, here: Free Travel Preset Collection
Next, I used the TOOLKIT.
I applied the following adjustments:
9. Open Shadows ++++
20. Vibrance+
32. Vignetting ++
43. Midtone Contrast ++
The Editing Formula: Backlit Face (9, 20, 32, 43)
And here is the final result:
Free Lightroom Presets Download
Below please find the complete free lightroom presets download (zip) library.