Famous portrait photographers have a unique ability to capture the essence of their subjects, immortalizing them through their lenses. In this article, we will explore some of the most renowned portrait photographers and their iconic photographs, delving into the artistic styles and techniques that have made them stand out in the world of photography.
Originating over 4,000 years ago, portraits have played a significant role in human history, especially since the broad scope of portraits includes painting, photography, and sculpture. So what exactly is a portrait by definition?
What Is Portrait Photography?
A portrait is an artistic representation of a person in which the face and its expression are predominant. But, it also goes beyond that. The deeper purpose of a portrait is to display the likeness, personality, and even the mood of the person.
Portrait photography has the power to capture the essence of individuals, revealing their personalities, emotions, and stories through a single frame. Even if you don't share a passion for portraits, portrait photographers can offer valuable lessons that can enhance your skills and ignite your creativity.
To help you get started, I've compiled a list of famous portrait photographers whose work is both influential and inspiring. Whether you're a serious, passionate, or committed photographer, exploring the work of these artists may just sow the seeds of inspiration for your own photographic journey.
A true portrait should, today and a hundred years from today, be the testimony of how this person looked and what kind of human being he was.

Philippe Halsman
Get Inspired by Famous Portrait Photographers
1. Richard Avedon (1923 – 2004)
Richard Avedon, an iconic fashion and portrait photographer, had a profound impact on the style, beauty, and culture of the United States during the twentieth century. Born on May 15, 1923, in New York City, Avedon began working as a photographer for the U.S. Merchant Marine during World War II. His career flourished in the 1950s when he became a staff photographer for Harper's Bazaar, a prestigious fashion magazine, where he developed his signature style of portraiture.
Avedon was also recognized for his work with the American civil rights movement in the 1960s, photographing many leading figures, including Martin Luther King Jr. His portraits were published in photo essays that highlighted the struggle for civil rights in the United States.
His artistic style was characterized by his ability to capture the personality and emotions of his subjects, often using simple backgrounds and natural light to highlight the features and expressions of his models. His intimate and revealing portraits exposed the vulnerabilities and complexities of his subjects.
Among his many iconic portraits, three stand out:
Twiggy, hair by Ara Gallant, Paris. January 1968: This image, part of the Museum of Modern Art (MoMA | The Collection | Richard Avedon), features Twiggy, a model who made remarkable statements in the fashion industry, just like Avedon. Despite its simplicity, the portrait captures a dreamy quality that exemplifies Avedon's impeccable role as a master of conceptualization.
Dovima with Elephants, 1955: This surreal, oneiric, and humorous image juxtaposes the elegance and freedom of a deliberate lean portrayed by the model Dovima with the rough and tamed elephants in the background. The beautiful parallelism between the dripping cloth and the elephant's frontal foot serves as a subtle reminder of the art direction behind this iconic fashion photo.
Beekeeper, 1981: An extremely bold portrait of Ron Fischer, a beekeeper from Oak Park. Avedon had a concept in mind, which he sketched on paper after posting two ads in national beekeeper journals. Fischer appeared four months later, and the entire production, which only lasted a couple of days, resulted in an absolute masterpiece of portrait photography.
Avedon's impact on portrait photography was significant, as he was one of the first photographers to elevate fashion photography into the realm of fine art. His portraits of celebrities, politicians, and everyday people were celebrated for their honesty and emotional depth. His innovative approach and unique vision have left a lasting legacy in the world of photography.
Richard Avedon On the Web:
2. Annie Leibovitz (1949 – )
Annie Leibovitz is a renowned portrait photographer known for her intimate and provocative images of celebrities and public figures.
Born on October 2, 1949, in Waterbury, Connecticut, Leibovitz developed an interest in photography while studying at the San Francisco Art Institute. Over the years, she has worked with some of the most prominent publications and brands, including Vanity Fair and Walt Disney.
Leibovitz's artistic style is known for its ability to capture the essence and personality of her subjects. Her portraits often convey a sense of intimacy and vulnerability, revealing the human side of the people she photographs. She is recognized for her use of dramatic lighting, bold compositions, and creative staging, which create visually striking and emotionally resonant images.
Leibovitz has had a significant impact on portrait photography, redefining the genre of celebrity portraiture. Her work has been featured in numerous publications and has earned her critical acclaim and numerous awards. Her images have become iconic, and she has helped to shape the way we perceive celebrities and public figures.
The Highlights of Annie Leibovitz's Career
Rolling Stone Magazine: Leibovitz started her career as a staff photographer for Rolling Stone magazine in 1970. Her work with the publication helped establish her reputation as a leading portrait photographer. She captured some of the most iconic images of musicians and cultural figures of the time, including the famous portrait of John Lennon and Yoko Ono taken just hours before Lennon's death.
Vanity Fair: In 1983, Leibovitz joined Vanity Fair as a contributing photographer. Her work with the magazine has produced some of her most memorable portraits, including the pregnant Demi Moore cover and the Vanity Fair Hollywood Issue covers. Her long-standing relationship with Vanity Fair has allowed her to create a diverse and extensive portfolio of celebrity portraits.
Walt Disney's Dream Portraits: Leibovitz collaborated with Walt Disney to create a series of portraits featuring celebrities as Disney characters. The "Dream Portraits" campaign showcased Leibovitz's creativity and ability to bring fantasy to life through photography. The campaign included portraits of Scarlett Johansson as Cinderella, Jessica Biel as Pocahontas, and Johnny Depp as Captain Jack Sparrow.
Despite her success, Leibovitz faced financial difficulties in the late 2000s, which almost led to her losing her portfolio. In 2009, she took out a $15.5 million loan from Art Capital Group using her real estate and the rights to her photographs as collateral. Fortunately, she was able to resolve her financial issues and retain the rights to her work.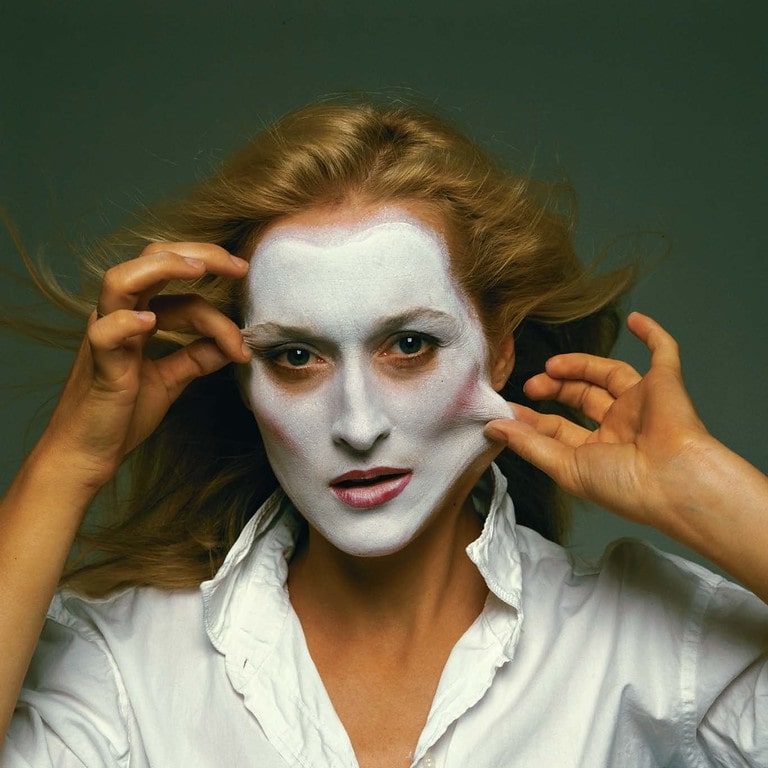 Annie Leibovitz's body of work stands as a testament to her skill and creativity as a portrait photographer. Her images continue to be admired for their technical mastery and emotional depth, making her one of the most important and influential photographers of her generation.
Annie Leibovitz On the Web:
3. Helmut Newton (1920 – 2004)
Helmut Newton, born on October 31, 1920, in Berlin, Germany, was a seminal figure in portrait and fashion photography. Newton started his career as an apprentice to German photographer Yva, and over time, he developed a distinctive artistic style defined by provocative, often controversial images. His work is characterized by bold compositions, dramatic lighting, and a sense of voyeurism, and he excelled at creating striking, thought-provoking photographs that challenged conventional ideas of beauty and glamour.
Newton had a profound impact on the industry, pushing boundaries and redefining women's portrayal in photographs. His use of nudity and eroticism was groundbreaking and contributed to fashion photography's rise as a form of fine art. His legacy persists as photographers continue to find inspiration in his work.
Some of Newton's most significant projects include:
Vogue Magazine: Newton's affiliation with Vogue began in the 1950s, solidifying his status as a top fashion photographer. His work with Vogue spanned decades, capturing celebrities, politicians, and cultural icons such as Elizabeth Taylor, Margaret Thatcher, and Karl Lagerfeld. His portraits stood out for their bold compositions and dramatic lighting, encapsulating the subjects' essence.
Vanity Fair: From the 1980s onwards, Newton's work with Vanity Fair became iconic. His images of celebrities, politicians, and cultural figures like Demi Moore, Naomi Campbell, and Karl Lagerfeld pushed the boundaries of traditional portraiture. His unique vision and style made his work instantly recognizable.
Related: Black & White Photography Quotes
Big Nudes Series: In 1980, Newton published his "Big Nudes" series, featuring larger-than-life images of nude women in empowering poses. This series was a trailblazer in exploring female sexuality and empowerment, and it remains one of his most famous and influential works.
Newton's contributions helped redefine fashion and portrait photography, and his images continue to resonate due to their technical mastery and emotional impact.
Helmut Newton on the Web
4. Martin Chambi (1891 – 1973)
Martin Chambi, a Peruvian photographer born on November 5, 1891, in Coaza, Puno, is renowned for his evocative black-and-white photographs that capture the lives and landscapes of the indigenous peoples of the Andes region. Chambi began his journey into photography at a young age, working in various photographic studios in Peru.
Chambi's artistic style is distinguished by his profound empathy and respect for his subjects. He had an innate ability to capture the essence of the indigenous cultures he documented, producing images that are both intimate and powerful. His work is characterized by meticulous composition, attention to detail, and a masterful use of light and shadow.
Chambi's influence on portrait photography was significant. He was among the first indigenous photographers in Latin America, playing a pivotal role in preserving the cultural heritage of the Andean people. His work introduced the rich diversity and complexity of indigenous life to a wider audience and is celebrated for its historical and artistic value.
Some notable aspects of Chambi's life related to photography include:
Exploration of Machu Picchu: Chambi was one of the first photographers to document the ancient Incan city of Machu Picchu. His images of the ruins and surrounding landscapes played a crucial role in drawing global attention to this significant archaeological site.
Portrait Studio in Cusco: Chambi opened a portrait studio in Cusco, where he became renowned for his portraits of indigenous people and the local elite. His studio became a cultural hub, attracting artists, intellectuals, and tourists.
Documentation of Andean Festivals: Chambi is known for his photographs of traditional Andean festivals and ceremonies. He captured the vibrancy and cultural richness of these events, preserving them for future generations.
Chambi's work stands as a testament to the power of photography as a tool for cultural preservation and storytelling. His images offer a unique glimpse into the lives of indigenous communities in the Andes, and his legacy continues to inspire photographers and historians worldwide.
Martin Chambi on the Web
5. Daniel Mordzinski (1960 – )
Daniel Mordzinski is a renowned portrait photographer born in Buenos Aires, Argentina, who has made a significant impact on portrait photography, particularly in the literary world. From an early age, Mordzinski developed a passion for photography and began his career as a photojournalist in the 1980s.
He has earned the title of the "Photographer of the Writers" due to his extensive work photographing authors, poets, and literary figures. His portraits of writers have been featured in newspapers, magazines, and books across the globe, earning him recognition for his unique ability to capture the essence of the literary world through his images.
However, in 2013, Mordzinski faced a devastating loss when a large portion of his work, including over 27 years' worth of photographs, was destroyed during an inventory mistake at the French newspaper Le Monde, where he worked as a staff photographer. This included many of his iconic portraits of writers.
Some of the notable writers Mordzinski has photographed include Gabriel Garcia Marquez, Mario Vargas Llosa, Julio Cortázar, Jorge Luis Borges, Salman Rushdie, Isabel Allende, Umberto Eco, Haruki Murakami, José Saramago, Paul Auster, Susan Sontag, Milan Kundera, J.K. Rowling, Orhan Pamuk, Don DeLillo, Doris Lessing, Carlos Ruiz Zafón, John Irving, Kenzaburo Oe, Toni Morrison, Philip Roth, Margaret Atwood, V.S. Naipaul, José Luis Peixoto, Amin Maalouf.
Despite the tragic loss of his work, Mordzinski's legacy as a portrait photographer remains strong, and his intimate and authentic portraits continue to be celebrated worldwide.
Gabo, siempre (Mapa de las lenguas)
Hardcover Book
Mordzinski, Daniel (Author)
Spanish (Publication Language)
128 Pages - 09/21/2015 (Publication Date) - LITERATURA RANDOM HOUSE (Publisher)
6. Arnold Newman (1918 – 2006)
Arnold Newman, celebrated for his environmental portraiture, was a highly regarded portrait photographer and photography teacher. Born on March 3, 1918, in New York City, he began his career as a studio portraitist.
Newman was known for his environmental portraiture technique, capturing subjects in their natural surroundings. His composition, use of form, and attention to shapes were evident in his iconic 1946 portrait of Igor Stravinsky, which showcased his skill in manipulating elements to create a visually compelling image.
His reputation grew as he worked for major publications like Newsweek, Life, and New York Times Magazine. His portraits of politicians, artists, and cultural figures helped establish him as a leading portrait photographer. Newman's ability to communicate the context, professions, and passions of his subjects set him apart.
Newman's influence extended to his role as a sought-after photographer of literary figures, such as Ernest Hemingway, John Updike, Pablo Picasso, and Truman Capote. His ability to capture the essence of his subjects made him a favorite among writers.
Arnold Newman's innovative approach to portrait photography, his mastery of composition, form, and shapes, and his ability to capture the essence of his subjects have left a lasting legacy in the world of photography. His work continues to be celebrated for its artistic beauty and historical significance.
Arnold Newman on the Web
7. Philippe Halsman (1906 – 1979)
Philippe Halsman was a renowned portrait photographer, known for his collaboration with Salvador Dali and his innovative approach to portrait photography. Born on May 2, 1906, in Riga, Latvia, Halsman began his photography career in Paris, where he quickly gained a reputation as a skilled and creative portraitist.
Halsman's artistic style was characterized by his use of surrealism, experimentation, and a sense of humor. His portraits were often playful and imaginative, incorporating elements of surprise and whimsy. He was also known for his mastery of lighting and composition, which allowed him to create dynamic and engaging images.
Halsman's impact on portrait photography was significant. He was a pioneer of experimental photography and was known for pushing the boundaries of the medium. His work helped to elevate portrait photography to the status of fine art, and his innovative techniques continue to influence photographers today.
Halsman's most famous collaboration was with the surrealist artist Salvador Dali. The two worked together on a series of iconic images, including the famous "Dali Atomicus," which featured Dali suspended in mid-air surrounded by flying cats and water.
Halsman worked extensively with Life magazine, where he photographed many of the leading figures of the time. His portraits of celebrities, politicians, and cultural figures were widely published and helped to establish his reputation as a master of portraiture.
Related: 10 Most Expensive Images Ever Sold
Halsman photographed a wide range of celebrities, including Marilyn Monroe, Audrey Hepburn, Winston Churchill, and Albert Einstein. His ability to capture the essence of his subjects made him a sought-after photographer in Hollywood and beyond.
In 1957, Halsman published his book "Halsman on the Creation of Photographic Ideas," which outlined his philosophy and approach to photography. The book provided insight into his creative process and his techniques for creating dynamic and engaging portraits. It remains a valuable resource for photographers and continues to be celebrated for its practical advice and artistic insight.
Philippe Halsman on the Web
8. Diane Arbus (1923 – 1971)
Diane Arbus was a pioneering photographer renowned for her evocative portraits of marginalized individuals, such as dwarfs, giants, transgenders, nudists, and circus performers. Her work challenged traditional notions of beauty and perfection, offering a fresh perspective on those often overlooked by mainstream culture.
Arbus began her photography career alongside her husband, Allan Arbus, contributing to fashion magazines such as Glamour, Seventeen, Vogue, and Harper's Bazaar. Despite their success, the couple harbored a shared disdain for the superficial values of the fashion industry.
Arbus approached her subjects with a deep respect and fascination for their individuality, often spending time with them to establish rapport and mutual trust. This allowed her to capture intimate and revealing portraits that were powerful and thought-provoking, compelling viewers to confront their biases and assumptions.
One of Arbus's most iconic portraits, "Identical Twins, Roselle, New Jersey, 1967," features twin sisters at a Christmas Eve gathering. The subtle contrast between the twins' expressions highlights their individuality, despite their identical appearance. Some speculate that this image may have inspired Stanley Kubrick's casting of twin performers in "The Shining" (1980).
Diane Arbus on the Web
9. Steve McCurry (1950 – )
Steve McCurry, an acclaimed photojournalist, is renowned for his evocative portraits that reveal the depth of emotions of his subjects. Born on February 23, 1950, in Philadelphia, Pennsylvania, McCurry went on to study at Pennsylvania State University before embarking on a distinguished career in photography.
His iconic photograph, "Afghan Girl," featuring Sharbat Gula, is recognized globally as one of the most impactful portraits ever created. The image captures the intensity of Gula's expressive eyes, the impeccable sharpness of the shot, the harmonious colors of her clothing against the background, and her captivating expression. It graced the cover of National Geographic in June 1985, testifying to McCurry's skills in portraiture and his ability to create lasting, powerful images.
McCurry's work exudes a powerful and engaging quality that transcends language and resonates deeply with viewers. His dedication to continuous practice and discipline is evident in the consistent excellence of his work, making it a valuable source of inspiration for aspiring and established photographers alike.
A pivotal moment in McCurry's career occurred in 1978 when he undertook his first trip to India. Over six months, he immersed himself in the people, landscapes, and culture of the country, fueling his passion for photography and laying the foundation for his future work.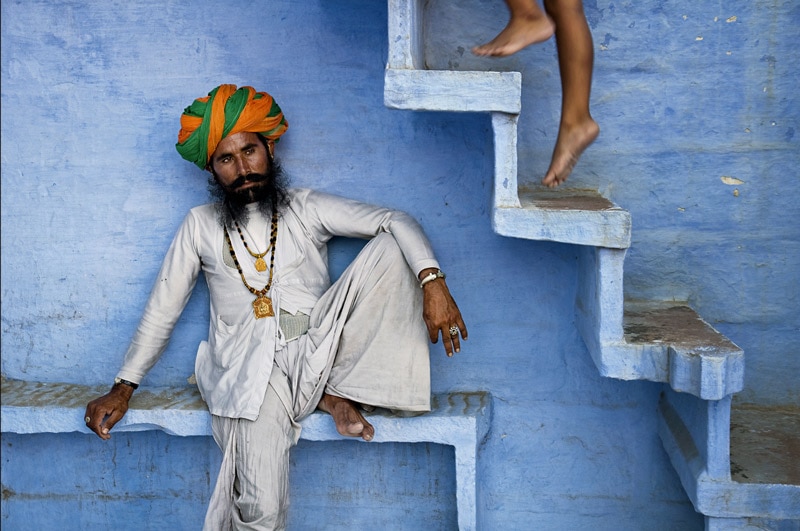 His longstanding collaboration with National Geographic magazine has been fruitful, showcasing his ability to capture the beauty and complexity of the world. His images have been featured prominently on numerous covers and within various articles.
In essence, McCurry's artistic prowess and ability to create memorable and emotionally resonant portraits have solidified his place in the annals of photography history.
Steve McCurry on the Web
10. Jimmy Nelson (1967 – )
Jimmy Nelson, born on May 13, 1967, in Sevenoaks, Kent, UK, is an acclaimed photographer known for his compassionate approach to capturing vanishing cultures around the world. His artistic style is characterized by technical mastery and a genuine connection with his subjects.
Nelson's focus on documenting people and cultures on the brink of extinction due to various anthropological factors is a testament to his dedication. His intimate portraits preserve the essence of these cultures for future generations.
Nelson's impact on portrait photography is significant. He has shifted the narrative from merely capturing images to one of understanding and empathy. His work highlights the importance of caring about subjects to tell their stories more authentically and powerfully.
His dedication to capturing vulnerable moments and cultures adds an important dimension to his artistry, emphasizing the value of preserving the world's diverse cultural heritage.
Nelson's care for people, which translates into trust, allows him to access the inner circles of endangered cultures. This patience and respect are crucial in capturing the intimate details of these communities.
His TED Talk, "Gorgeous portraits of the world's vanishing people," underscores the importance of his work in raising awareness about disappearing cultures.
Through his photography, Nelson continues to make a lasting impact by documenting the beauty and complexity of the world's most vulnerable communities.
Jimmy Nelson on the Web
Famous Portrait Photographers | Final Thoughts
Famous portrait photographers have played a crucial role in shaping the art of portrait photography. Through their unique styles, innovative techniques, and ability to capture the essence of their subjects, these artists have left a lasting impact on the field. Studying the work of these photographers can provide valuable insights and inspiration for aspiring photographers and admirers alike.
Articles Related to "Famous Portrait Photographers and Their Photos"