If you are someone like me who is interested in travel and landscape photography, you understand the main challenges that come with the territory. The challenge is not the type of camera, its settings or lens selection but something much more banal—being at the right place at the right time.
Sometimes it takes a short walk to make a great shot while other times it takes extensive planning, long flights, and exhaustive multi-day hiking trips to reach the perfect spot. This is when selecting the best hiking camera for your needs is paramount.
Like everything in life, there is no such thing as a perfect camera. You always have to compromise and make a selection that addresses your specific needs.
Over the years, I developed a specific framework for choosing the right photography equipment. It is a two-step process. First, I identify the photo equipment parameters that are most important to my particular situation. Second, I rate all the models that I consider to be potential candidates.
You can see how I use this framework to choose the right travel tripod for my needs.
Today, I will apply the same system to choose the best backpacking or hiking camera.
Here is a list of the most critical parameters for a camera intended for hiking and backpacking:
Compactness and Low Weight. This is self-explanatory. When you prepare for a multi-day backpacking trip, every ounce you carry with you counts. You want to ensure that the weight of your camera does not handicap your trip. The goal is to carry the minimum necessary weight.
Durability. Regardless of what model you choose, a camera is always the most delicate piece of your hiking equipment. You want to ensure it can withstand constant banging and the occasional drop.
Weather Sealing. This is tricky. Ideally, you want a fully waterproof camera, but these are rare, expensive, and extremely bulky especially if you opt for the waterproof housing. In my case, I try to have a camera that is weather or environmentally sealed.
Image Quality. If you intend to publish your photos to social media and photo sharing websites, you can get away with lower-quality images. If you are hiking to a once-in-a-lifetime location, plan to print your photos, and use them in your portfolio, image quality is very important.
Low Light Performance. If you only shoot when there is plenty of light, an entry-level digital camera can produce acceptable results. But you probably noticed that the most exciting photos are taken during sunsets and sunrises when the lack of light makes the scene even more dramatic. This is when low light performance in a backpacking camera is critical. If you plan on taking photos of the starry night sky, low light performance becomes the single most important feature of a camera.
Battery Life and USB Charging Ability. First, you want to ensure that your camera will have enough charge to last all day. No one wants to carry an extra 10 batteries on a hike. Second, you need a camera that can be easily charged from a USB power bank without the need for a dedicated charger.
Overall Value. The goal is to identify the models that offer the best value for your money.
Quick Summary: Best Hiking Cameras
GoPro Hero7 Black
Olympus Tough TG-5 Waterproof Camera
Sony RX100 VI
Sony a6300
Fujifilm XT3
Nikon 3500
Nikon D850
GoPro HERO7 Black
BEST ACTION CAMERA FOR HIKING
4K60 Video, 12MP Photos, 1.75 x 2.44 x 1.26 in, 4.13 oz
Action Cameras for Hiking and Backpacking
In recent years, action cameras became a viable option for people wanting to combine hiking and backpacking with photography. With every new generation, action cameras became more capable, durable, with built-in in-body image stabilization and completely waterproof without the need for a waterproof housing. What is even more significant is the dramatic improvement in the quality of photos they produce.
GoPro Hero7 Black
For years, GoPro cameras were at the cutting edge of technology. The GoPro Hero7 Black is no exception. It has a tiny, durable and waterproof body down to 10 meters—if you need to dive deeper, you need a dedicated housing. The camera has an astonishingly effective in-body electronic stabilization, HDR mode, and ultra-wide lens that make it suitable not only for vlogging but for landscape photography as well. It seems to be a perfect backpacking camera with one major weakness—the sensor size. All action cameras employ small sensors that negatively affect image quality and low light performance.
Let's grade the GoPro Hero7 Black based on the parameters we defined.
Compactness: 10+
It is hard to imagine how much technology GoPro managed to squeeze into such a miniature body.
Durability: 10
Weather sealing: 10 (fully waterproof)
Image Quality: 5
In good lighting conditions, the 10MB sensor produces decent images. But as soon as the light decreases and the camera needs to boost the ISO to compensate, you see a sharp decline in image quality.
Low Light Performance: 3
There is a direct correlation between the sensor size and its low light performance. The general rule is that cameras with bigger sensors always outperform models with smaller sensors. When you have a tiny sensor like that in the GoPro, you cannot expect miracles or cheat physics. You can forget about astrophotography for sure.
Battery Life and USB charging: 8
The battery life is decent when you shoot only stills. GoPro batteries are small, which means you can bring several along with you without taxing the weight of your equipment. You can also charge it using a USB cable and battery bank.
Overall Value: 7
GoPro action cameras are usually on the high price tier. Some people consider them to be overpriced.
Action Cameras to Consider
---
Best Rugged Cameras for Hiking
"Rugged" cameras are a special breed designed specifically for outdoor enthusiasts. These cameras are built around a point-and-shoot chassis with protective shells that are waterproof, dustproof, freezeproof, and crushproof.
Rugged cameras are popular among snorkelers, surfers, rock climbers, and winter sports enthusiasts. The negatives of any rugged camera is, at their core, they are point-and-shoot cameras with a small sensor, uninspiring lenses, and no viewfinder.
Olympus Tough TG-5 Waterproof Camera
The Olympus Tough TG-5 is the king of all rugged cameras because it excels in pretty much every aspect. It has a 12-megapixel sensor with improved low light performance and a fast f/2.0 lens with an extremely useful 25-100mm zoom range. It is fully waterproof up to 50 feet, crushproof up to 220 pounds of force, and it can withstand cold temperatures. The negatives are its small sensor, which is the main limiting factor for image quality, and its relatively high price tag.
Olympus TG-5 Rating
Compactness: 10
Durability: 10
Weather Sealing: 10 (fully waterproof)
Image Quality: 5
Low Light Performance: 3
Battery Life and USB charging: 8
Overall Value: 7
Rugged Cameras to Consider
---
Point-and-Shoot Cameras for Hiking
A few years ago, I would never consider a point-and-shoot camera for an extensive backpacking trip. But since mobile phones wiped out the lower end of the compact camera market, a new breed of camera emerged—premium point-and-shoot cameras.
The main characteristics of premium compact cameras are a bigger sensor (1" or larger), a high-quality wide zoom lens, and all the advanced functionalities you can find in high-end DSLR or mirrorless cameras. But there is one shortcoming among every premium compact model: there is no weather sealed model currently available.
Sony RX100 VI
Sony did not invent the premium point-and-shoot market segment, but they took the concept to an entirely new level with their RX100 series. At this point, there are six models in the RX100 lineup ranging in price from $400 to $1,200. That's right—Sony offers point-and-shoot cameras that cost more than many DSLR or Mirrorless models.
Related: Parts of a Camera. Understanding How Digital Camera Works
With the release of the latest RX100 VI, Sony extended the camera's zoom range to an impressive range of 24-200mm to make it the ultimate travel companion. The Sony RX100 VI also has a 1" 20-megapixel sensor, fast processor, high-quality Zeiss lens 24-200mm f/2.8-45, RAW capability, and 4K video shooting. To put it simply, the high-end specifications were built around the 1" sensor, which is the entire concept behind all premium compact cameras.
Sony RX100 VI Rating
Compactness: 10
Durability: 5
The camera is relatively fragile, especially when the viewfinder is extended. It is not designed for drops or banging.
Weather Sealing: None
Image Quality: 8
Low Light Performance: 6
Battery Life and USB charging: 8
Overall Value: 7
If the price is too steep for your budget, look into older Sony RX100 series models for a good value camera. I do not recommend any model below the RX100 III because the original RX100 and RX100 II did not have an EVF and the zoom range is less usable at the wide end (28mm instead of 24mm). I still have my Sony RX100 III, which produces amazing photos. I always keep it in a sealed plastic bag during my adventures.
Point-and-Shoot Cameras to Consider
---
Mirrorless Cameras for Backpacking
In a nutshell, the mirrorless cameras are interchangeable DSLR cameras without the cornerstone mechanical part—the mirror. Eliminating the mirror allowed camera designers to build a much more compact camera without compromising on image quality. Many photographers who take long hiking trips switched to mirrorless cameras to take advantage of the more compact bodies and lenses.
Related: Comparing Fujifilm xt3 with Fujifilm xt30
In my case, the small form factor was one of the main motivational factors five years ago when I switched from my Canon DSLR to the Sony mirrorless.
Sony a6300
The Sony a6300 is a mirrorless camera with an APS-C sensor. It became the favorite option among travel photographers and outdoor enthusiasts. It is a very small camera model even by mirrorless standards, but it packs a punch with a state-of-the-art sensor that produces clean, noise-free images, a fast processor, and an accurate autofocus. I used the a6300 in every condition of traveling, backpacking, and hiking. The low light performance is not stellar compared to full frame cameras, but it beats any point-and-shoot camera and was great to use for astrophotography.
Related: Comparing Nikon D5300 vs Nikon D5600
When you combine the Sony a6300 with the 10-18 f//4 ultra-wide zoom lens, it becomes the most effective combination for landscape photography. This is the combo I used most often during hiking trips. The only issue with using a Sony APS-C setup is the lack of weather sealed lenses. Even though the Sony a6300 has a weather sealed body, I never found the right lens to make it a complete weather sealed pair.
Sony a6300 Rating
Compactness: 9
Durability: 6
Weather Sealing: 7 (weather sealed body)
Image Quality: 8
Low Light Performance: 6
Battery Life and USB charging: 7
Overall Value: 8
Fujifilm XT3
For a long time, Fujifilm was a niche camera manufacturer that designed retro-looking cameras with mechanical dials. In the last few years, Fujifilm took the camera market by storm when it designed one of the best APS-C cameras and lenses on the market. Because of its small factor, distinctive design, durability, and image quality, many Fujifilm models make great backpacking cameras.
The Fujifilm XT3 is truly a travel camera that makes it a perfect companion for hiking and backpacking. This is the camera I travel with today. My motivation for switching from the Sony APS-C to Fujifilm was to have a weather sealed camera with outstanding optical qualities, a compact design, and a dual memory card slot for full redundancy. I found this and more with the Fujifilm XT3.
Another important point is that I easily accompany my Fujifilm XT3 with a number of quality weather sealed lenses. My go-to backpacking lens is the Fujinon 18-135mm, which is a very versatile lens with a useful zoom range and incredibly effective image stabilization. Now, I can go on a weeklong backpacking trip and bring only one lens. The only issue with the Fujinon 18-135mm is its size. It is not small. If I need to go even lighter, I use the newest addition to the Fuji lens family—the Fujinon 16 f/2.8 prime lens, which is small and light.
If you want to go even lighter, check out the Fujifilm XT30, which has an identical sensor and processor as the XT3 but in a much smaller form factor. Even though you get the same image quality with the XT30, you lose the weather sealing feature.
Fujifilm XT3 Rating
Compactness: 7
Durability: 6
Weather Sealing: 7 (weather sealed body)
Image Quality: 9
Low Light Performance: 7
Battery Life and USB charging: 7
Overall Value: 9
Mirrorless Cameras to Consider
---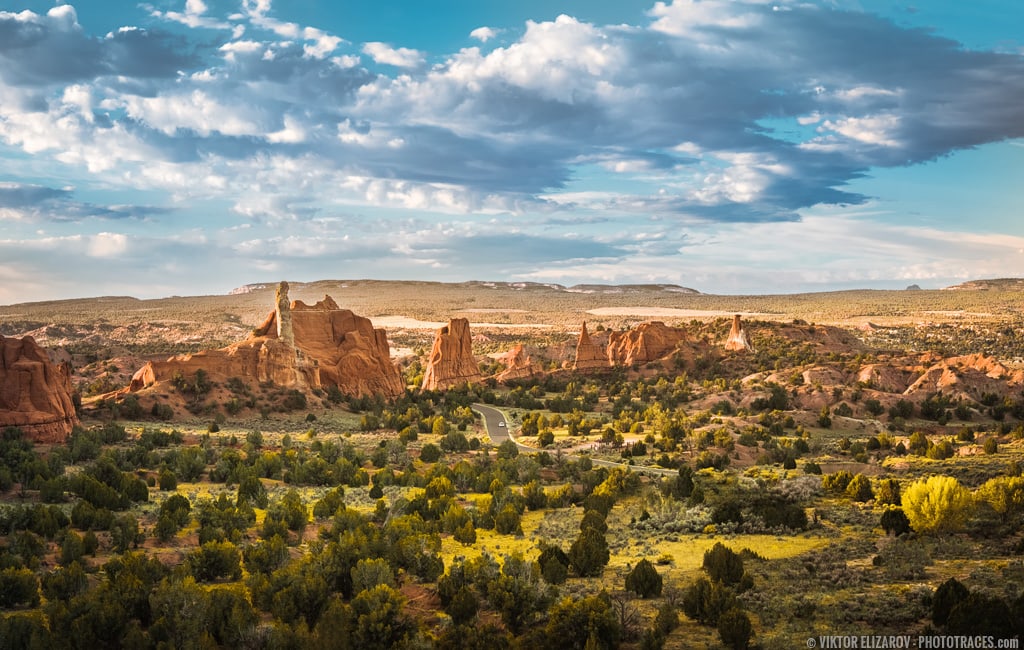 Best DSLR Hiking Cameras
DSLRs are the bulkiest cameras you can bring with you on your travels, but they offer some important advantages. There are plenty of models to choose from, the lens selection is extensive, and you can find a lens for any type of photography and budget.

Nikon D3500
The Nikon 3500 is arguably the best entry-level DSLR for the purpose of landscape photography. It is light, compact, has a sensor with an impressive dynamic range, and is accompanied with an 18-55mm kit lens that produces exceptional photos.
If you want to upgrade the kit lens to a more versatile, travel-oriented option, the Nikon 18-140mm lens is the perfect candidate.
Nikon 3500 Rating
Compactness: 9
Durability: 6
Weather Sealing: 0 none
Image Quality: 7
Low Light Performance: 6
Battery Life and USB charging: 8
Overall Value: 9
Nikon D850
The Nikon D850 is the best-all around DSLR camera ever built. It has an enormous 45-megapixel full frame sensor with the best dynamic range among all the DSLRs. It is big, heavy, and takes up a lot of space in your backpack.
But if your interest is in astrophotography or you are planning to produce large prints, you need the best quality camera you can get. The Nikon D850 is the best DSLR around.
Nikon D850 Rating
Compactness: 5
Durability: 7
Weather Sealing: 7 weather sealed
Image Quality: 10
Low Light Performance: 8
Battery Life and USB charging: 8
Overall Value: 6
DSLR Cameras to Consider
---
Final Thoughts
As you can see, there is no single camera that is the perfect fit for every photographer. Depending on your style of photography and your travel habits, camera selection will vary.
Let me give you a couple of scenarios of backpacking camera selections:
Scenario #1. If you are planning a multi-day hiking trip and your primary goal is not photography but you would like a camera to document the trip, an action camera like the GoPro Hero7 Black is a great option for vlogging, making videos, and general photography.
Scenario #2. If you want to keep the weight of your pack to a minimum but still have the ability to produce high-quality photos and videos, the Sony 100X series is a solid choice with the Sony RX100 VI at the top end of the spectrum and the Sony RX100 III at the lower end.
Scenario #3. If the main purpose of your backpacking trip is photography, you absolutely have to compromise on the weight and size of your camera to ensure you have the best image quality in any challenging situation. My choice in these scenarios is the Fujifilm XT3 and the Fujinon 18-135mm lens. Of course, I always keep my old Sony RX100 III in my backpack just in case.
What to Read Next: