Are you planning an amazing trip to Nevada, and want to visit the best National Parks near Las Vegas? While Vegas is most well known for its entertainment, gambling, and even hockey, it also happens to be perfectly situated amongst several beautiful national parks!
Las Vegas is a strategic hub for travelers and adventurers who are preparing to explore the southwestern United States. It is strategically positioned close to many breathtaking locations in not only Nevada, but California, Utah, and Arizona as well.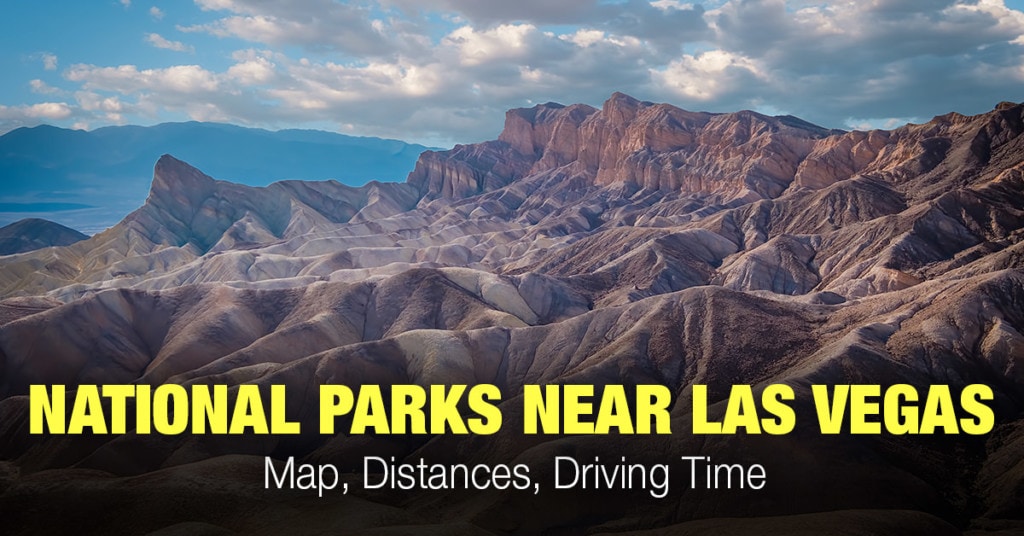 National Parks Near Las Vegas
There are a few great national parks located within easy driving distance of Las Vegas, but if you really want to get the full experience of this amazing area, there are also plenty of National Recreational Areas, National Conservation Areas, and National Preserves, and State Parks. If you add these to your list of places to visit, your options become almost unlimited!
1. Red Rock Canyon National Conservation Area (NV)
Distance: 21 miles, Driving time: 0.5 hours
Red Rock Canyon is one of the closest parks to Las Vegas and one of the most beautiful. With huge cliffs, giant rock formations, and red boulders everywhere, it is a hotspot for people like photographers and rock climbers.
Even if hiking or climbing isn't your thing, a one-way 13-mile long road loops through the park and showcases some of its best sights.
If time is of the essence, but you still want to get out and explore, Red Rock Canyon National Conservation Area is a great place to start and is just a short drive from the city life of Vegas!
2. Lake Mead National Recreation Area (NV)
Distance: 21 miles, Driving time: 0.5 hours
Another location found extremely close to Las Vegas, Lake Mead, is only a short half-hour drive from the city and is the largest freshwater reservoir in the area. This manmade lake was created by the famous Hoover Dam and is so big that it extends from Nevada into Arizona.
Lake Mead National Recreation Area is very large, and within it, you can find two giant lakes, canyons, valleys, cliffs, and mountains. There are also plenty of wilderness areas to explore as well.
Some of the more popular activities at Lake Mead include fishing, swimming, and wakeboarding, and there is never a shortage of boats out on the water. This lake is the perfect place to cool off from the desert heat and enjoy the natural surroundings.
3. Valley of Fire State Park (NV)
Distance: 60 miles, Driving time: 1 hour
If you are planning a trip to visit Lake Mead, then you won't want to miss Valley of Fire State Park as well. In fact, it might be a good idea to combine a visit to both of these amazing locations.
This park gets its name from the red sandstone cliffs and rock formations, and they shine as if on fire during sunrise and sunset. There are a variety of hiking trails through Valley of Fire, as well as plenty of campsites for park visitors to utilize.
Valley of Fire State Park is every landscape and outdoor photographer's dream location, and the beautiful scenery is second to none. Don't forget your camera when you go to visit!
4. Death Valley National Park (CA)
Distance: 110 miles, Driving time: 2 hours
Map: Download the official Death Valley Map (PDF)
Death Valley is actually the closest national park to Las Vegas. It is also famous for many things, like being the largest national park in the lower 48 states. It also holds the records for the lowest point in elevation in North America and the hottest and driest location in North America.
So why would anyone want to visit a place like this? Luckily there are many reasons, and there is much more than just desert as its name and reputation would have you believe!
Death Valley has giant sand dunes, mountains covered in snow, large canyons, mosaic badlands, and even a few waterfalls, depending on the time of year.
Before visiting the park, don't forget to download the official Death Valley map.
5. Snow Canyon State Park (UT)
Distance: 170 miles, Driving time: 2 hours 25 minutes
The first location on our list found in Utah, Snow Canyon State Park, is famous for its large canyons that are carved out of white and red sandstone. The scenery is breathtaking here, and because of the mild weather, it is open year-round.
Popular activities that can be found at Snow Canyon State Park include hiking, biking, horseback riding, camping, and photography.
Located just a few hours outside of Las Vegas, Snow Canyon is one place you must visit to truly appreciate. Many people argue that if this park was found in any other state, it would easily be a national park. You may even find yourself never wanting to leave!
6. Zion National Park
Distance: 170 miles, Driving time: 2 hours 25 minutes
Map: Download the official Zion Map (PDF)
Zion National Park is one of the country's most popular and most visited national parks, and for a good reason. This park is absolutely stunning. From the canyon walls to the white, yellow, and orange cliffsides, everywhere you turn here is breathtaking.
One of the best views in the entire park is of Zion Canyon, carved from the Virgin River. The cliffs and mountains in this area are world-class and draw in visitors from all around the world.
There is plenty to do in Zion National Park, and the most popular activities include hiking and rock climbing. If you ever get the chance to visit Zion, you will no doubt have an experience you will remember forever.
7. Joshua Tree National Park (CA)
Distance: 185 miles, Driving time: 3 hours 10 minutes
Found in Southern California, Joshua Tree National Park is a desert wonderland that is chock-full of interesting and beautiful things to see. While the Joshua trees are obviously the main attraction and where the park got its name, there are plenty of other desert attractions to explore.
One of the most popular activities at Joshua Tree is camping, and there are numerous campsites available for anyone visiting the park.
A little over a 3-hour drive from Vegas, Joshua Tree National Park is a great place for some beautiful desert scenery and exploration. You might even stumble into some old homesteads and goldmines as well!
8. Coral Pink Sand Dunes State Park (UT)
Distance: 190 miles, Driving time: 3 hours
Utah has some amazing parks; luckily, Las Vegas sits right next to the Nevada and Utah border. Coral Pink Sand Dunes is one of these and is often overlooked by visitors because of the other larger and more famous national parks in the area.
Just as the name implies, there are red and pink sand dunes in this park that are the main attractions. These were formed by the erosion of Navajo sandstone cliffs.
One of the most popular activities at this park is riding ATV's throughout the dunes, but other visitors also enjoy camping, hiking, and photography. If any of these sound like fun to you, then Coral Pink Sand Dunes State Park should be on your list!
9. Bryce Canyon National Park (UT)
Distance: 270 miles, Driving time: 4 hours
Map: Download the official Bryce Canyon Map (PDF)
Bryce Canyon National Park is found just east of Zion National Park and is most often visited by people who are there to see both parks. In fact, these two parks are often combined in one trip for most visitors, and you can't enjoy one without the other!
Bryce Canyon is famous for its rock spires as well as its cliffs, canyon walls, and other rock formations that form a natural amphitheater.
Plenty of trails allow you to drop down into Bryce Canyon and explore these rock formations and scenery up close, and this is definitely one of the best things to do while visiting this iconic national park.
10. Grand Canyon National Park, South Rim (AZ)
Distance: 275 miles, Driving time: 4 hours 15 minutes
The Grand Canyon might just be the most famous natural attraction in the country, and maybe even the world. More than 6 million visitors travel here each year to witness this breathtaking scenery, and Las Vegas is one of the best starting points on this trip.
Everything from the hiking trails to witnessing sunrise or sunset over the canyon will leave you speechless, and there is no shortage of activities for visitors and explorers.
Visiting the Grand Canyon ranks high on many people's list of travel destinations, and luckily Las Vegas is close enough to this impressive landmark built by nature.
11. Kodachrome State Park (UT)
Distance: 285 miles, Driving time: 4 hours 30 minutes
Found southeast of Bryce Canyon National Park, Kodachrome State Park is full of colorful sandstone spires, red rock boulders and mountains, and clear blue skies. This park is the perfect spot to get out and enjoy nature at its finest.
There is plenty of hiking, horseback riding, and mountain biking trails throughout this park and numerous camping opportunities scattered in and around the park.
Kodachrome State Park offers some of the most vivid and vibrant natural colors of anywhere around, all while offering plenty of places to get out and explore. While it may be last on our list, it certainly is not the least!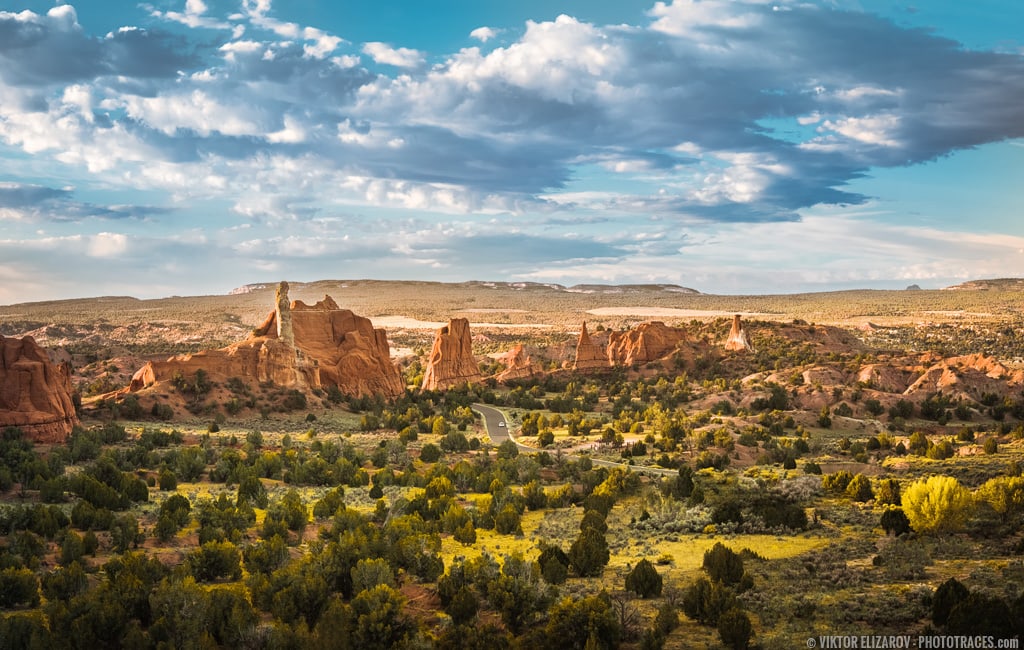 National Parks Near Las Vegas | Conclusion
Las Vegas is a great city with plenty of attractions and things to do for the average person. But if you are like me and love the outdoors, it can be the perfect starting point to get out and visit some of the best national parks and landscapes in the country. With such close proximity to some amazing natural wonders, Las Vegas is truly one of the best places to start your adventure!
Articles Related to "National Parks Near Las Vegas (Map, Distances, Driving Time)"